Ever since the revelation of drugs angle in the case of the late actor Sushant Singh Rajput, the entire Bollywood has been seen divided into 2 camps. In this episode, Jaya Bachchan made a statement in the Rajya Sabha recently, which is making the headlines these days.
Actually this entire debate regarding addiction of drugs in Bollywood was started by Bhojpuri actor Ravi Kishan.
After this, MP and actress Jaya Bachchan responded to that. Now, actress Kangana Ranaut has slammed Jaya Bachchan after that statement given by her in Parliament.
Let us see, what this whole matter is.
Kangana is cleaning the 'thali' of drugs, so why the problem?
It may be noted that recently, Jaya Bachchan in response to Ravi Kishan's statement on the issue of drugs in Bollywood said, "Jis thali mein khate hai usi me chhed karte hai, galat baat hai".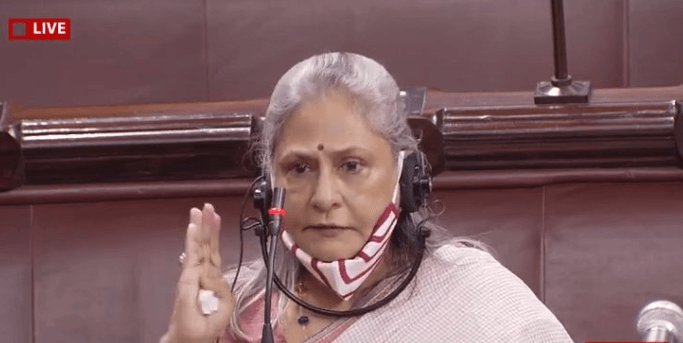 Jaya's statement is becoming quite viral on social media. After this statement of Jaya Bachchan, a user shared a photo of Jaya on twitter and targeted her.
The user wrote, "Jaya ji, do you consider the group of four-five families as the plate of the whole industry? Kangana Ranaut serves her own plate and while putting her plate at stake, she is getting the drugs' plates clean, so why the problem?"
जया जी चार – पाँच परिवारों के झूठन को पूरी इंडस्ट्री की थाली समझ बैठे आप? @kanganateam ने ख़ुद की थाली परोसी और अपनी थाली दाँव पर लगाते हुए वो ड्रग्स की थालियों को साफ़ करवा रही है तो दिक़्क़त क्यों? pic.twitter.com/MIImew1zO5

— Shehzad Jai Hind (@Shehzad_Ind) September 16, 2020
Kangana asked, "which plate did you give?"
Kangana Ranaut also gave a response after this tweet from the user. Retweeting this tweet, she wrote, which plate has Jaya ji and her industry given? A thali was given which had a two-minute role, item number and a romantic scene, that too after sleeping with the hero. She said that she taught the industry Feminism, decorated the thali with patriotic films and films with female leads. She added that this is her own plate and not hers.
कौन सी थाली दी है जया जी और उनकी इंडस्ट्री ने? एक थाली मिली थी जिसमें दो मिनट के रोल आइटम नम्बर्ज़ और एक रोमांटिक सीन मिलता था वो भी हेरो के साथ सोने के बाद,मैंने इस इंडस्ट्री को फ़ेमिनिज़म सीखाया,थाली देश भक्ति नारीप्रधान फ़िल्मों से सजाई,यह मेरी अपनी थाली है जया जी आपकी नहीं। https://t.co/lPo9X4hRZX

— Kangana Ranaut (@KanganaTeam) September 16, 2020
What would Jaya Bachchan say if Abhishek Bachchan was harassed?
For your information, let us tell you that Jaya Bachchan had said in the Rajya Sabha recently that the people whom the Bollywood industry gave fame and recognition are now engaged in bringing this industry into disrepute.
However, this statement made by Jaya Bachchan in Parliament has created a lot of ruckus. After this statement, Kangana Ranaut lashed out at Jaya Bachchan. She asked Jaya Bachchan that if Abhishek Bachchan had been harassed in the industry in the same way, would she still say the same thing?
Jaya ji would you say the same thing if in my place it was your daughter Shweta beaten, drugged and molested as a teenage, would you say the same thing if Abhieshek complained about bullying and harassment constantly and found hanging one day? Show compassion for us also 🙏 https://t.co/gazngMu2bA

— Kangana Ranaut (@KanganaTeam) September 15, 2020
What are your views on this?
Thank you
Team Garvi Gujarati