The festival of 'Bhai Dooj' is dedicated to the sacred relationship of brother and sister. On this day, the sister invites the brother to her house to have a meal and serves him food with great affection. As per the tradition, the sister applies 'Tilak' on the brother's forehead and the brother presents a gift to the sister.
This tradition, which has been going on since time immemorial, is still being practiced across India. It is believed that both, brother and sister are bestowed with long life and wealth by celebrating 'Bhai Dooj'.
Story of 'Bhai Dooj' as per Hindu Mythology
'Bhai Dooj' is related to 'Suryadev' and 'Chhaya's' son 'Yamraj' and daughter 'Yamuna'.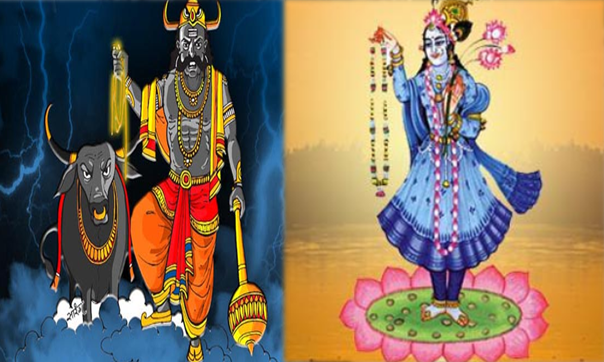 Sister Yamuna, often requested her brother Yamraj to come to her house and have food. However, due to his busy schedule, Yamraj could not fulfill this wish of Yamuna. One day, Yamraj suddenly reached at his sister Yamuna's house. That day was the second day of the first fortnight (Sood) of Kartak month, as per Hindu Calendar. Sister Yamuna was very happy to see her brother Yamraj at her house and welcomed him. She served him delicious food with lot of affection and love.
Pleased with his sister Yamuna's affection and love, Yamraj decided to grant her a wish (Vardaan). To this, sister Yamuna responded by saying that he should come to her place to have food every year on the same day and all the sisters who invite their brothers to their place on this day, applies tilak on her brother's forehead and serves him food, should be free from the fear of Yamraj. Yamraj agreed to this wish of Yamuna and left. Since then, this day came to be known as 'Bhai Dooj' and on this day the brother accepts sister's invitation to have food at her place.
Story of Krishna and Subhadra
One more mythological tale associated with Bhai Dooj is of Lord Krishna and his sister Subhadra. On the day of Bhai Dooj, Lord Krishna returned to Dwarka after killing the demon 'Narakasura'. Lord Krishna's sister Subhadra welcomed him with flowers, sweets, fruits and by lighting diyaas.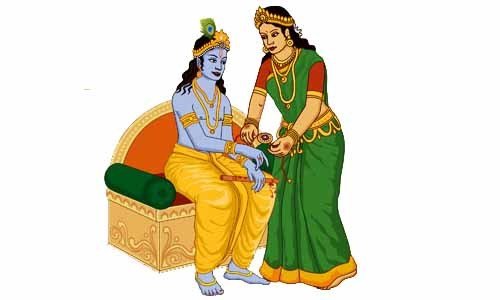 Sister Subhadra prayed for Lord Krishna's long life by applying tilak on his forehead.