Aryan Khan, son of actor Shah Rukh Khan, seems to be in trouble. NCB has got some more evidence against him, based on which his custody can increase. NCB will also demand to increase the custody of Arbaaz Merchant and Munmun Dhamicha, who were arrested along with Aryan in the court today.
At the same time, a team of NCB has arrived again on the cruise standing at the Mumbai International Cruise Terminal. This team is searching the place to collect more evidence. The rave party was to be held on the way from Mumbai to Goa. After being raided, it has been brought back to Mumbai.
Today Aryan Khan's lawyer Satish Manshinde will file his bail plea in Mumbai's Sessions Court. His one-day NCB custody also ends today. Till now there were reports that NCB is not going to oppose his bail, but now there is less chance of him getting bail.
Aryan had to spend Sunday night in the NCB office itself. Sources said that even late night, Aryan, and Arbaaz were interrogated by NCB officials after sitting face to face.
NCB may oppose Aryan's bail
According to sources, the Narcotics Control Bureau (NCB) has said that it will not seek Aryan's custody in the Cordelia Cruises drugs case. According to reports, when Aryan Khan will be sent to judicial custody on Monday, his lawyers will apply for bail.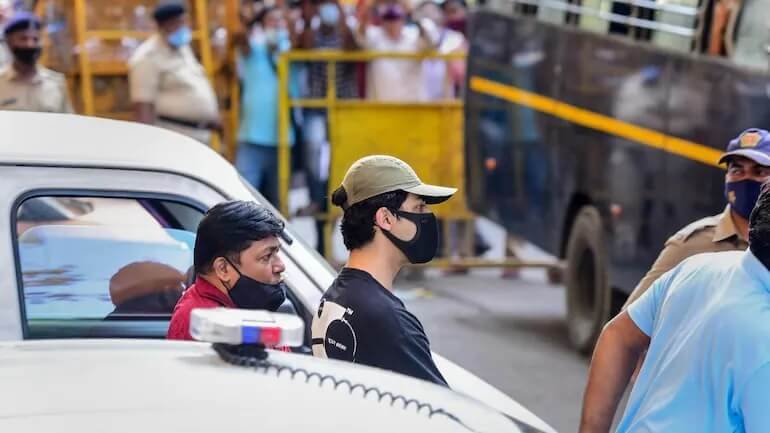 It is believed that NCB may demand to keep Aryan in judicial custody till the initial investigation of the case. However, it is doubtful whether the court will accept it.
Presentation of 5 other accused for custody Today
Late Sunday evening, NCB arrested 5 more people who were detained in the same case. The names of these five are Nupur Sarika, Ismeet Singh, Mohk Jaswal, Vikrant Chhokar and Gomit Chopra. NCB will present all these in the court today and demand judicial custody. Another person has been arrested by NCB from Belapur. However, its name has not been disclosed yet.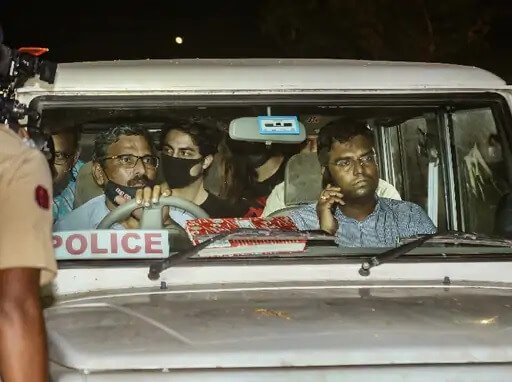 On Sunday, while seeking the custody of the three, including Aryan, the NCB said that the accused were related to the drug nexus, public prosecutor Advaita Setna had said that WhatsApp chats have been found from the accused, whose investigation is going on. Apart from this, banned drugs have also been found from the accused. Its sources and links need to be checked. Setna said that the WhatsApp chat shows that the accused are linked to drug consumption and drug addiction. Thereafter, citing State vs Anil Sharma case, Setna sought Aryan's custody in the bailable section.
Aryan's lawyer said – he did not find any drugs on behalf of Aryan, advocate Satish Manshinde had argued that his client's case is bailable. He would have applied for bail, but it could not happen as it was a Sunday. His client was called by the organizers. He didn't even have a cruise ticket. Nothing was found with them. Apart from this, their mobile phones have also been checked. Couldn't find anything in that either. Manshinde argued – NCB has also said that nothing was recovered from Aryan. Nor has he taken any kind of drugs.
After the arrest of Aryan, Shah Rukh Khan's friend Salman Khan reached his house on Sunday night to meet him. Salman has left his house at midnight. Reports are also coming out that Shah Rukh Khan will also take a break from the shooting of Pathan for some time.
Sections of NDPC 8 C, 20 B, 27 and 35 have been imposed on Aryan Khan. Under these sections, things like consuming drugs, knowingly taking drugs and buying drugs are covered. Aryan has been arrested under these. According to sources, Aryan Khan has admitted that he had consumed drugs. However, Aryan has refused to buy drugs. No drug has also been recovered from Aryan.
The cruise company denied having any hand in this matter
Waterways Leisure Tourism Pvt Ltd, the company that runs the Cordelia cruise ship. The company's CEO Jurgen Bellom has denied the company's involvement in the matter.
He said that on Saturday night his ship was booked by a Delhi-based company for a private function. At the time when NCB raided it, it was on its way to Goa like a chartered ship. He also assured all possible help to the police and administrative officers in this matter. Meanwhile, information has also been received that the same ship has another party booked for Mumbai-Goa-Mumbai on November 13 and 14. It has been named the Biggest Cruise Festival of India. The booking of this party was going on till Sunday.
What are your views on this whole matter?
Thanks
Team Garvi Gujarati