One of the most awaited festivals is round the corner. The smell of freshly made chikkis signifies the official beginning of Uttarayan. This festival is roller coaster ride, hopping from one place to another and yelling Ae Lapettttt/ Kai po che! Is a joy beyond words. So before you head start with the extravaganza of this festival, here are a few things that you must keep ready before hand just to make 100000% out of this festival!
Following are 12 Things That Happen During Uttarayan Preparation In Gujarat
1. The first aid kit specially band aids.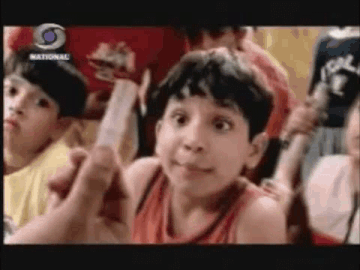 Hushyaari bau nai maarvani, keep some good stock of band aids. You very well know you will get cuts and then you will forget about them but when you slurp the spicy savories of Uttrayan tyare khabar padse!
2. The playlist check!
What is Uttarayan without loud music. Not saying you must go out of the way and disturb people all over, thoduk samjine but yes music adds the jaan to  our Uttarayan. So ensure you ping every friend of yours to collect whatever kind of music they have be it Garba, Punjabi, remixes, English, Bhojpuri what not! Just ensure majja padi jaye!
3. Chikkkkkiiiiiiiiii!
No the above word is not a spelling error, it is just that I am so F***ing excited. Mari jeva sweet tooths mate this festival is heaven! But you must not only hogg around but also help mommy with the preperations, Like you have an option when she orders " jaa bandho samaan lai aav market maa thi" ????
4. Speakers !
If you forget this one then god help you. Bau maar padse beta! Better not forget this, Be cause if you go at the end moment koi bhaav nai aapey. Go well in advance book amazing ones, dance your way out while flying kites! It is  funny how you will dance and fly kites together but still.
5. Two wheeler safety!
This is also the time when a lot of unattended deadly threads are flying around so be super super super cautious while riding your two wheeler. We add an extra accessory to our two wheeler during this time. A rod to prevent the thread getting onto our face and neck. This one is necessary!
6. Swachh terrace abhiyan!
Don't you put this one onto your mom! She already is so busy with all the preparations around the festival be a god boy or girl and please take the broom in your hands! Jhaadu pavitra thai jase I know when you do it but the point here is a clean terrace is a must.
7. With all the home made chakna do not forget videshi daaru!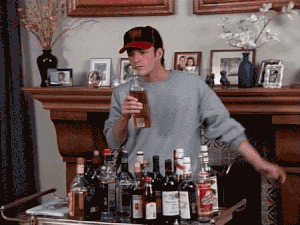 As if getting some good beers or whatever is your preference is a draining task in Gujarat! Do not postpone this preparation till the last moment or else you will have to shell out an ounce of your blood to buy some daaru. Pehla thi setting kari rakhvanu pan Uttarayan pehla haath nai lagavanao, the drink has to serve its purpose duh!
8. Stack up your kiniya vada patang!
This is a no brainer but if you are so caught up with all the "other" preparations of Uttarayan, you may forget tying kiniya to new kites or buying tiyar kiniya vada patang. Baki aakhi Uttarayan kiniya j bandhta rehso 😀
9. Pamper your throat.
Owing to the fact that uttarayan falls in the amazing season of winter, a lot of you may be having cold or cough ,so all of you little sick ones consult the doctor get it out of your systems so that you can yell Ae lapetttt / Kai po che  at the top of your voice without any hassle. This is THE most important thing.
10. Pipudi,  siti, horn and every other thing which makes noise!
Do not forget these noisy fellows, without these your "kai po che!" will be all rukha sukha! Kai naani vaat thodi che, aparat it is so much fun to tease the hell out of the other person by doing this!
11. Goggles
Aankho ne bhar tadka ma bachavanu hoy k pachi em j color karvo hoy k pachi tamara crush ne jhaakhvu hoy, goggles to joise j 😀
12. Maanjo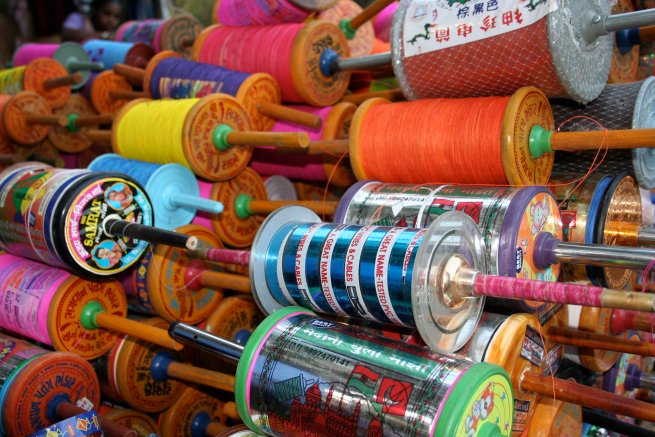 Maanjo Rangavana hov k pachi ready-made lavana hov, pehla thi taiyari raakhvi saari baaki gaathodiya dori par chagavano vaaro aave 😀
Like, comment and share 🙂