Virat Kohli, captain of Indian cricket team wished his fans and followers on the occasion of Diwali on Saturday. He shared a video message in which he told not to burst crackers on Diwali.
Some people expressed their displeasure when he said this about the festival while some users also targeted his wife, Bollywood actress Anushka Sharma.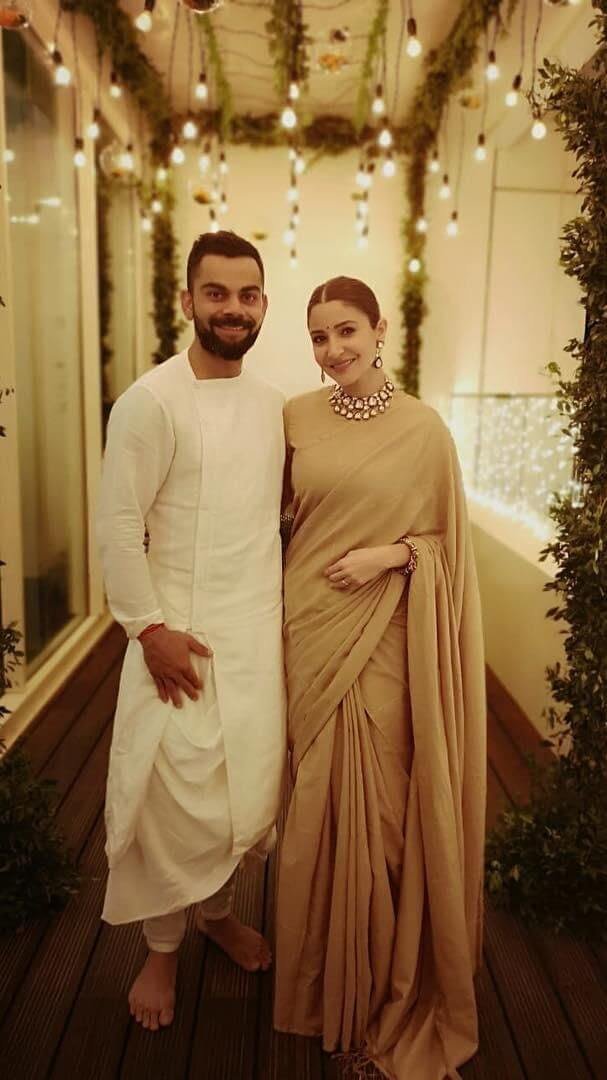 Virat said in the video, "A very Happy Diwali from me to you and your families. May God bless you with peace, prosperity and happiness this Diwali. Please remember, do not burst crackers, protect the environment and have fun at your home with loved ones with simple diya and sweets on this auspicious occasion. God bless you all. Take care..'
Happy Diwali 🙏🏻 pic.twitter.com/USLnZnMwzT

— Virat Kohli (@imVkohli) November 14, 2020
Some people did not like this message and they started trolling Virat as well as Anushka. One user wrote that Virat and Anushka have a private jet which emits more than 3 times more carbon dioxide in 3 hours as a human being in an entire year.
India's per person per year CO2 emission is approx 1.8 tonnes.

A private jet generates nearly 6 tonnes of CO2 emission in just one 3 hrs trip.

Kohli and Anushka owns a private jet.

Never let a privileged rich preach you on enviornment unless they lead by example.

— THE SKIN DOCTOR (@theskindoctor13) November 14, 2020
One user shared picture of Virat kohli himself bursting crackers in past and making a sarcastic remark whether the crackers he burst released oxygen.
ये पटाके ऑक्सीजन दे रहे हैं? pic.twitter.com/wopb73ZfdZ

— Prashant Patel Umrao (@ippatel) November 14, 2020
One user even suggested that he should have done a simple marriage considering the huge carbon footprint left behind by the grand wedding that Virat did
bhai simple shadi kar leta , yahin India mein kisi court mein..

italy kyun gaya poori baarat lekar, kitne carbon footprint chhode, koi idea hai

aaya bada simple diya and sweets

gyaan field mein jhada kar,
ek ICC tournament ka final nahin jeeta teri captaincy mein
aur IPL 🤭

— Arun Lol (@dhaikilokatweet) November 14, 2020
Here are some reactions from various users:
You are our best batsman. We love you. But our festivals are not your activism opportunity. Spare us the preaching. Pretty please with cherry on top!

— Abhinav Khare (@iabhinavKhare) November 14, 2020
You literally have a showroom in your house with vehicles not giving more than 10 kmpl.
Now sit and calculate the qty of CO2 generated in kg basis. (If you know to ) .You will realise how stupid you sound

— krithika sivaswamy (@krithikasivasw) November 14, 2020
Do not burst crackers?? Have you not seen crackers during ipl final?? Christmas or new year?? At that time you will keep silent, but you will give your selective gyaan during Hindu festivals

— Dhoni❤️ (@Rohithkumar_) November 14, 2020
Mmmmm pic.twitter.com/gKaVVmTrNh

— shravya reddy (@imshravya) November 14, 2020
But what's happening in background 🙄
For advertisement diwali with Crackers
On diwali no crackers 🤷 pic.twitter.com/d3dBLoA0GP

— Naveen Kumar Joshi (@NaveenKumarJ005) November 14, 2020
One user also asked him to speak the same for other festivals too!
When you wish merry Christmas make sure not to forget your environmentalism.
And on EID your animal love.
Happy Diwali.

— Sameerā Kashyap❄ (@not_sameera) November 14, 2020
What are your views on this?
Thank you
Team Garvi Gujarati