Gujarati food is much more beyond the glorified fafda and dhokla. If you ever thought that gujju food is just about adding sugar to every dish then be ready to get your myth bubble busted. These drool-worthy dishes are a proof that vegetarian food is not only healthy but also amazingly delicious. Read on and treat your tummy with these right away
Following are 30 lip-smacking Dishes That Prove Gujarati Food Is Much More Than Just Fafda and Dhokla
1) Sukdhi
Sukhdi is a sweet made from wheat flour and jaggery in ghee. Sukhdi is often consumed at weddings or on holidays. It is the antidote to every Gujaratis" sweet cravings.
2) Khandvi
Khandvi, Patuli or Dahivadi is a savory snack in Gujarati cuisine. It consists of yellowish, tightly rolled bite-sized pieces, and is primarily made of gram flour and curd.
3) Undhiyu
Undhiyu is a Gujarati mixed vegetable dish that is a regional specialty of Surat, India. The name of this dish comes from the Gujarati words "matlu" meaning earthen pot and "undhu" meaning upside down since they have been traditionally cooked upside down underground in earthen pots fired from above.
4) Shiro
Shiro or halwa, made from semolina/sooji, is prepared during poojas and offered to God in most Gujarati households. Suji, dry fruits, sugar, ghee, and milk come together to make this lovely dish! The perfect sweet for every occasion.
5) Surati Locho
Locho is steamed Gujarati Farsan. It is made from Gram Flour. The dish derives its name from its loose Consistency and irregular shape like dumplings. It is somewhat related to Khaman. Unlike Khaman it is not served in regular shaped cut pieces.
6) Khichu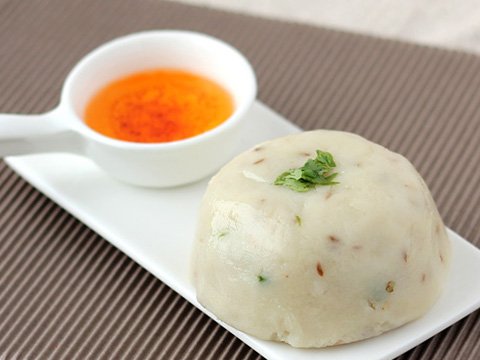 Khichu or Khichiyu is a dough for making Papad, however owing to its taste it is also consumed as Farsan in Gujarat. It is made from Rice Flour, however a few other flours are also used.
7) Paatra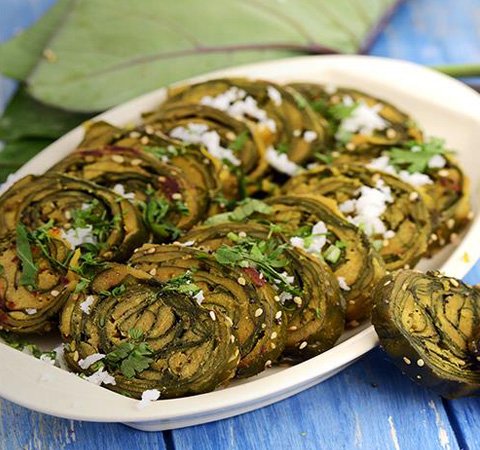 Colcocasia leaves with the mixture of gram flour and spices add to good health. The easily available leaves are not only an addition to your nutrients count but also a simple recipe without leaving a dent in your pocket. Patra remains every Gujarati's favourite dish because it comes in so many different styles – dahi (curd) wala patra, fried patra, vagharela (sautéed spices) patra, bafela patra!
8) Ghughra
Ghughra is traditional Gujarati Sweets/Dessert. It is also known as Karanji, Gujia or gujhia. Ghughra is fried desserts filled with coconut and dry fruits.
9) Dabeli
Dabeli or Kutchi dabeli or double roti originated from the Kutch region of Gujarat and is consumed by people of all ages. A type of vadapav, stuffed with mashed potato and a mixture of spices and groundnuts is often served with meethi chutney made of dates and tamarind. The colourful texture, the aroma of spices and a single bite of dabeli would surely leave you drooling!
10) Tuver Thotha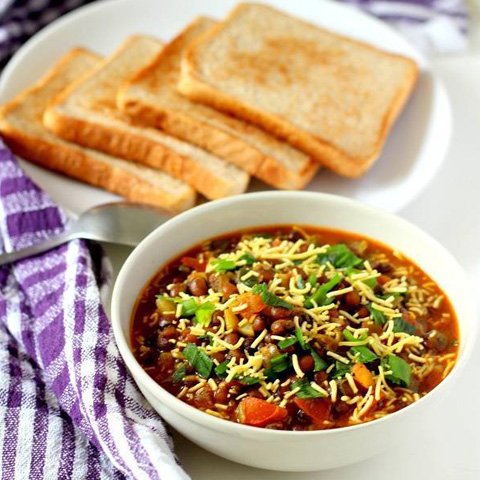 Tuver na thotha is simple, spicy and delicious winter recipe of North Gujarat.It is a curry dish made from pigeon pea. The dish can be made from dry pigeon pea (tuvar dal) or even green pigeon pea (tuvar lilva).
11) Methi na Gota
\
Gujarati tea time snack made from besan (gram flour) and fenugreek leaves. Gota has soft and spongy texture.
12) Vedmi
Vedmi is a sweet flat bread from Gujarat. Vedmi is Gujarati version of Puran Poli. Unlike maharashtrian Puran Poli which uses chana dal, the Gujarati version makes use of toovar dal.
13) Methi na thepla
Theplas are an inherent part of Gujarati meals, and are used for regular meals, travelling and for picnics! They are eaten with curd and chunda. The more popular version of thepla is one where finely chopped feenugreek leaves (methi) or coriander (dhaniya) is mixed in flour. Sometimes, bottle gourd (lauki/dudhi) is also grated and mixed with wheat flour.
14) Sabudana ni khichdi
Sabudana khichadi is a Gujarati dish made from soaked Sabudana. Sabudana, potatoes and peanuts dominate the flavour of this dish.
15) Mag ni dal na pudla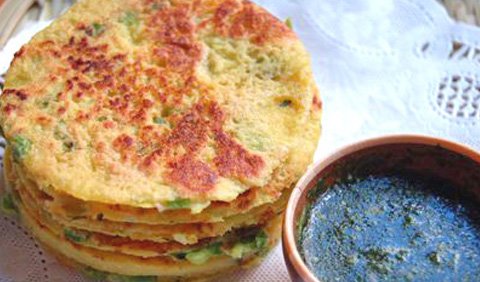 This five-ingredient quick fix makes the taste of moong dal (split green lentil) the hero of the the dish. This dish is full of proteins and makes for a great breakfast dish or a snack at any time of the day.
16) Dal dhokli
Dal dhokli is a Gujarati dish made by boiling thick wheat flour noodles in a pigeon pea stew. It is considered a comfort food.  A one dish meal of spiced flour dhoklis simmered in Gujarati dal.
17) Lilva ni kachori
Lilva kachori is one of the most famous Gujarati farsan. A south Gujarat delicacy made of green pigeon peas as stuffing and plain flour. When you visit Gujarat in winters, never miss the chance of having hot deep fried lilva kachoris.
18) Shrikhand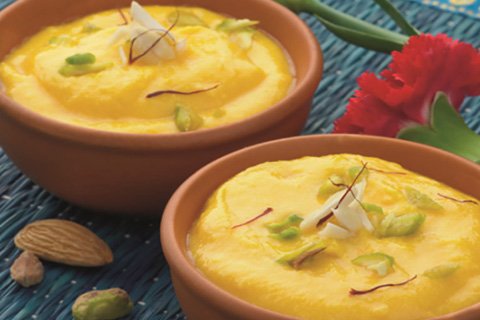 Shrikhand is a simple and soothing Gujarati dessert made with hung curd. The chef gives it a fruity makeover with the addition of fresh and juicy mangoes.
19) Handvo
Handvo is a vegetable cake. It is an important part of the Gujarati cuisine. It is often made with a bottle gourd filling, though many other vegetables can be added. Sometimes crushed peanuts are also added.
20) Basundi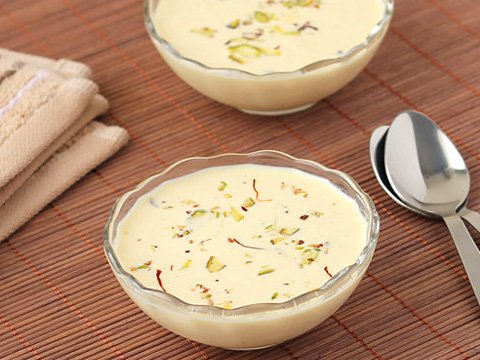 Basundi is similar to kheer as it is also made by cooking rice in milk. The aroma of saffron and rice cooked with sugar, elaichi and milk would draw anyone to the kitchen.
21) Mohanthal
The Gujarati mohanthal recipe comprises sweetened gram flour fudge flavoured with saffron and nuts. The dish can be served in two ways – in pieces or like halva that you scoop up with a spoon.
22)  Sev tameta nu shaak
Sev tameta nu shaak is a popular Gujarati style sweet and sour tomato curry prepared with tomato, sev, onion and other Indian curry spices.
23) Khaman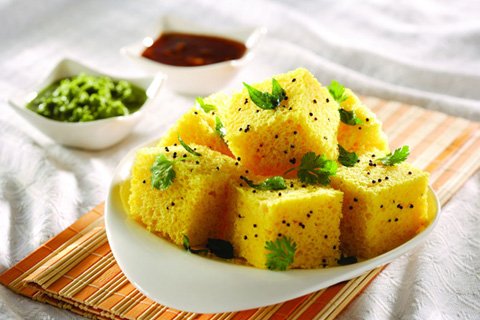 Khaman is a food common in the Gujarat state of India made from soaked and freshly ground channa dal or channa flour (also called gram flour or besan). Generally eaten as a snack, it is mostly served with sev, fried chillies and chutney. Sometimes it is also garnished with scraped coconut.
24) Khichdi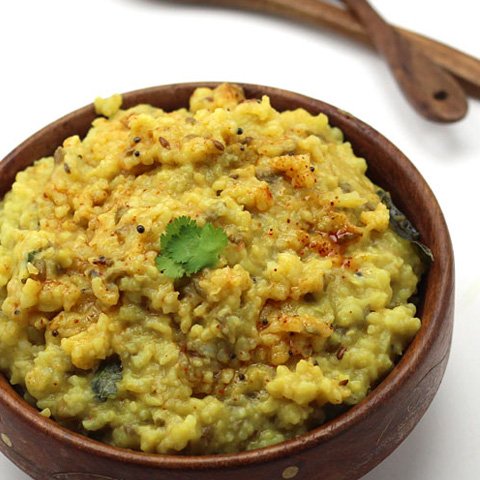 A bowl full of nutritious comfort food made of rice, cereals, vegetables and ghee is what you have for a Gujarati Khichdi. This twice a week cooked food in a Guajarati house is often served with butter milk or Kadhi.
25) Muthiya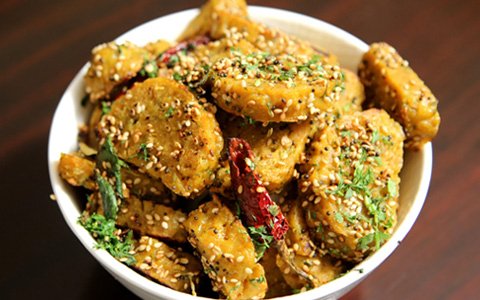 Muthiya is a Gujarati tea-time snack that is sure to please you. "Muthi" means fist in Gujarati, and the dish is named such because the mixture is shaped into cylindrical rolls using the fist. It can be made of almost all Indian flours.
26) Chorafali
A festive snack of Gujarat, it is made usually on the occasion of Diwali. However, the crunchy and spicy taste of this food has created a great demand and the reason it is now available as a street food too.
27) Bajri na Rotla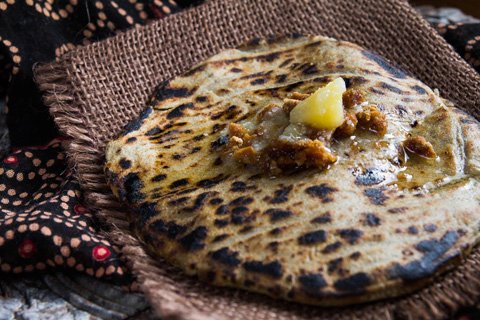 Rotlo is a traditional Gujarati flat-bread recipe of black millet or bajra served best with ringan no Odo. The rotlo made from these flours are quite healthy too. Its different than wheat flour and taste slightly bitter but tasty.
28) Ghaari
Ghaari or Surati Ghaari is a sweet dish from Gujarati cuisine, from the region of Surat. Ghaari is made of puri batter, milk "mawa", ghee and sugar – made into round shapes with sweet filling, to be consumed on Chandani Padva festival.
29) Kadhi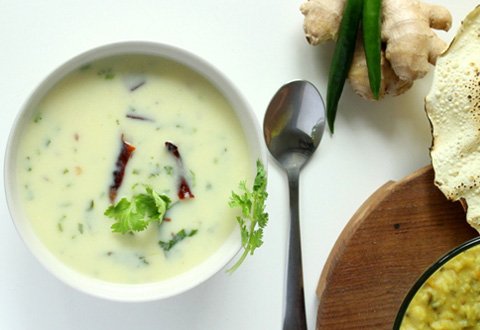 A staple in almost every household, Gujarati kadhi is a lovely curry with sweet undertones. This cooling curry is great to escape the heat. It is often served best along with Khichdi, Rice, Chappati or Thepla.
30) Vanela gathiya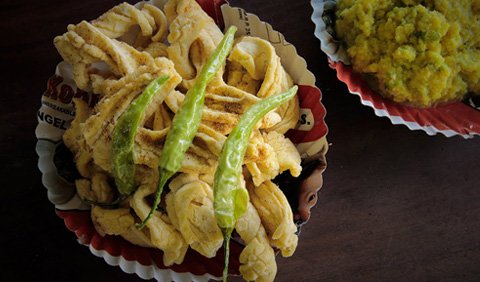 Vanela gathiya is a popular Gujarati tea time snacks. Vanela gathiya is made of gramflour moulded into strips and deep fried. It is served with tikhi lili chutney and fried green chillies.
Do you have more food dishes to add to the list, share it in the comment section below 🙂