A private college in Karnataka recently used a weird method to prevent students from copying in exams. The students, while writing the paper in the examination hall, were made to wear cardboard boxes on their heads, covering their faces from all directions.
This incidence happened at Bhagat Pre-University College, located in Haveri district of Karnataka. The cardboard boxes which the students were asked to wear had a round hole on the front side, which would enable them to see the question paper and write in his/her answer sheet, while the other sides of the cardboard would prevent him/her to peep into answer sheets of other students seated around him/her.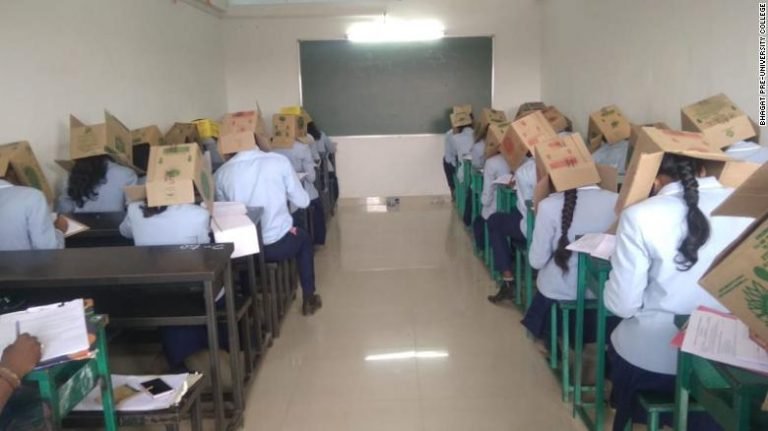 Things got interesting when the pictures of students writing exams wearing cardboard boxes were uploaded online by one the management member of the college. Soon, the pictures and the related incident went viral.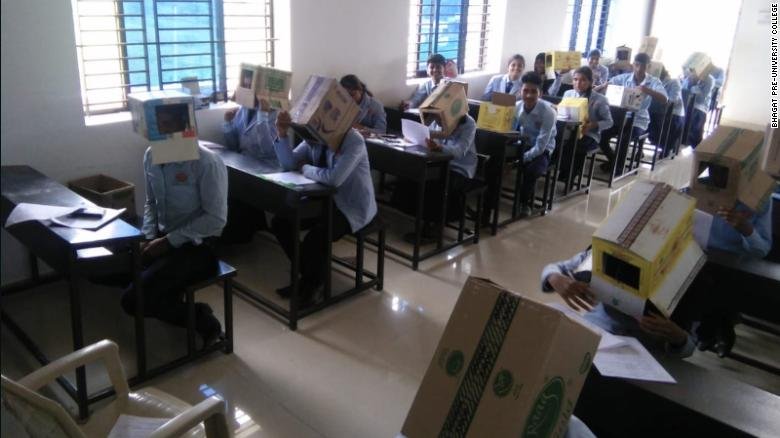 People on social media could not hold their laughter and funny reactions and memes related to this incident starting pouring in from all directions. The whole examination hall setup looked so funny that even the supervisor on duty, seen in one of the picture, was finding difficult to hold her laughter.
It is said; even the students writing the exams were laughing on looking at each other wearing cardboard boxes.
However, this weird yet funny idea did not go down well with the state administration. The college has been issued a notice demanding an explanation for using such method and has also been given a warning that its license will be cancelled if any incident of this kind is repeated in future.