Heritage Hotels in Gujarat
It becomes absolutely clear from the Indian and foreign tourists who had experienced the king size life of "Palace on Wheels" that everybody has an innate desire to live the life style of kings. The concept of Heritage Hotels has been established upon the foundation of this thought process and there are ample Heritage Hotels in Gujarat
Before India attained its freedom there existed many princely states across the nation. The rulers in these princely states used to live totally lavish life in their lavish palaces.
The fact that such lifestyle was accessible for just few elite classes no longer holds true. This lifestyle and experience can be relished by anybody. On account of merging of Princely states with India some palaces were transformed into heritage hotels.
There were 2 objectives to do so. First was that these palaces are inherited legacies which needs to be maintained properly. By transforming them into heritage hotels, high prices can be charged for relishing the luxurious experience at these palaces which can be utilized for high cost maintenance of these humongous palaces. Which otherwise would have been difficult to maintain.
Apart from that the other reason was that the next generation as well as tourists from India and abroad can witness our legacy and those who can afford, can even relish the experience of staying in the palaces. They can be a king/queen of a day!
The palaces and mansions of "Heritage Hotels" are artistic testimony to the beautiful architecture and Indian traditions as well as western establishments. Our tourism department as well as private tourist agencies facilitate services of visit and stay at these Heritage Hotels.
Following are some selected places which deserves a mention as Heritage Hotels in Gujarat:
VIJAY VILAS PALACE AND BEACH RESORT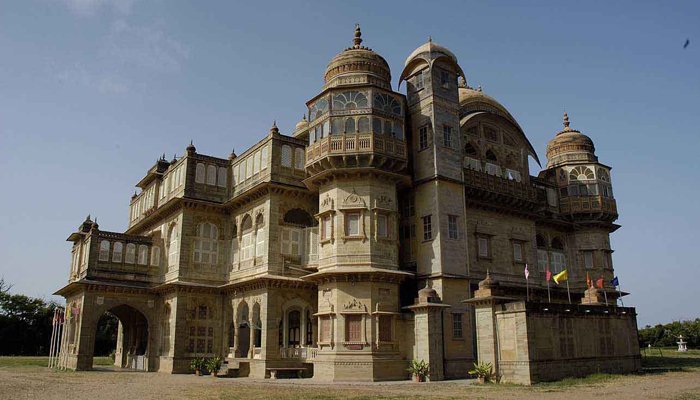 Mandvi beach in district Kutch, Gujarat, is probably the only private beach in India. The then Maharaja of Kutch built a palace in 1920 called Vijay Vilas Palace at about 8 kms. away from Mandvi. In the same palace and its huge compound area, Mandvi Palace Resort with 2 kms. long private beach area is constructed.
The Vijay Vilas Palace was damaged due to massive earthquake in 2001. The palace is now no more in use but the beach resort is developed with many facilties like:
10 luxurious A/C tents with attached bath, cold and hot showers.
Restaurant and dining hall for lunch and camp-fire dinner.
Horse riding, camel-riding, swimming, fishing, volleyball, cricket, indoor games, Yoga rooms, etc
Doctor's presence
Jain temples complex just 72 kms. away
Palace Museum
Amir Khan starrer movie "LAGAAN" and Salman Khan starrer movie "Hum Dil De Chuke Sanam" were shot at this palace.
RAJVANT PALACE, RAJPIPLA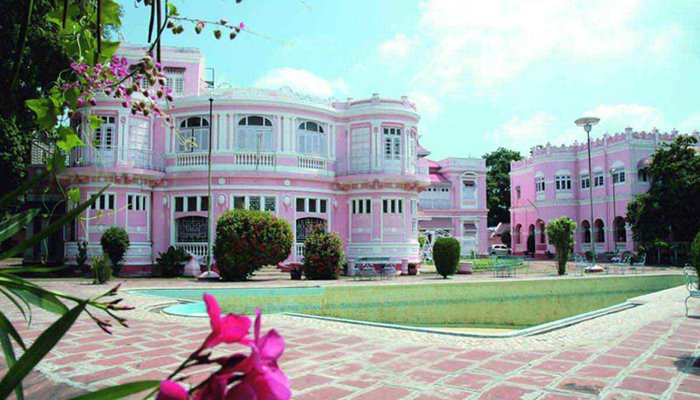 The palace also has modern amenities, decorative and comfortable furniture, restaurant, conference and banquet hall, museum, etc.
Maharaja Vijaysingh in 1915 constructed this palace at the bank of river Karjan, at Rajpipla Bharuch, Gujarat. It is about 90 kms from Vadodara and 195 kms. from Ahmedabad. It looks like European mansion having Roman dome, Greek grills, Venetian door, beautiful arches, large paintings, chandeliers, etc.
The much visited places of religious beliefs like Chanod, Karnali, Nareshwar, Garadeshwar and Dabhoi are nearby.
THE ROYAL RESIDENCY & THE ROYAL OASIS HERITAGE HOTEL, WANKANER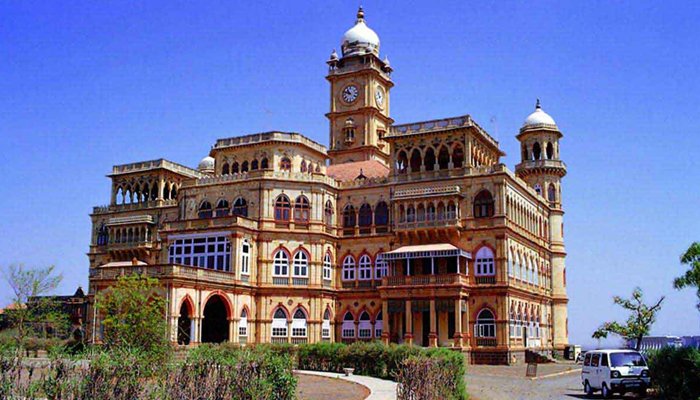 There is a huge complex of five palaces near Wankaner on Ahmedabad-Rajkot Highway. The palaces are built on 13 Acre vast area on the banks of river Machhu. The main palace is known as Ranjit Vilas Palace built by Raja Amarsinghji. It has a museum which displays many precious royal items, gifts presents. It has rooms with attached baths, swimming pool, garden, etc. It has the priviledge of being the FIRST heritage hotel of India.
This heritage hotel known as The Royal Residency has 12 royal suites with all modern facilities and royal interior decorations. Each suite is known by its special name like Viceroy suite, The Duke of comet suite, Karamchand suite, Jeweler Jack Carter suite, etc. All these people fell in inner friends-circle of the king then.
BALARAM PALACE RESORT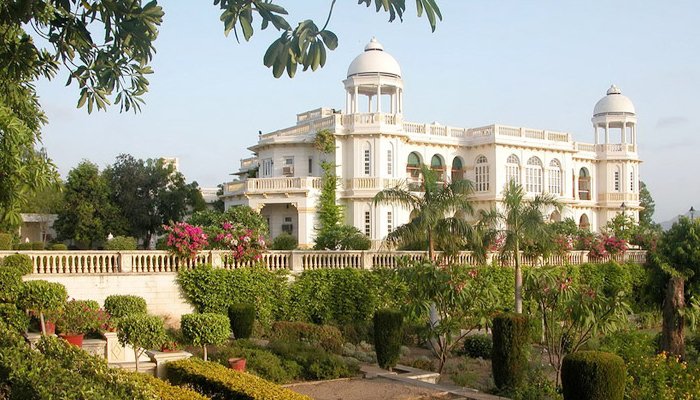 Balaram Palace Resort is at Balaram on Ahmedabad-Palanpur Highway, falling in district Banaskantha which is about 167 kms. from Ahmedabad. The palace contains 17 royal suites, Mexican grass lawn, eye-pleasing garden with music system at its end, natural swimming pool made up of water flowing from surrounding hills.
This heritage hotel has modern amenities like banquet hall health club, indoor games, etc.
The Amitabh Bachchan starrer movie Suryavanshi was shot at this palace. The nearby other places of visits are famous Ambaji temple, Jain temple of Kumbharia and Jessore bears sanctuary.
NILAMBAUG PALACE, BHAVNAGAR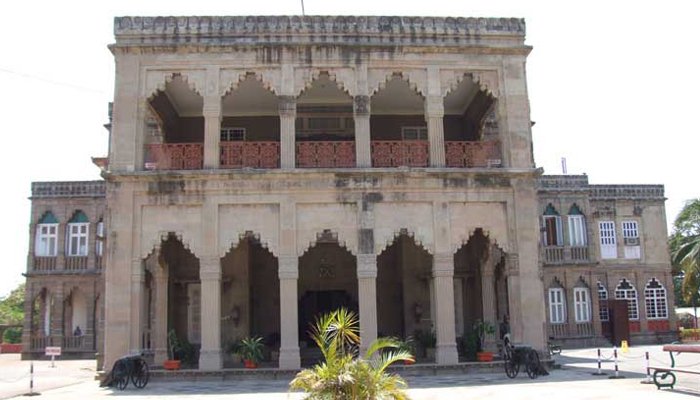 The centrally located in Bhavnagar city is 1895 built Nilambaug Palace is an attractive architectural building containing international level 5 star hotel facilities. About 200 kms. from Ahmedabad, this palace was beautifully designed by great architect William Emerson who also had designed Victoria Memorial of Kolkata and Crawford market of Mumbai. The palace encompasses garden and greeneries over forty thousand square feet and has fountains all round. There is an old canon at the entrance.
The palace is a 3 storey building containing 23 double beds and 2 A/C suites with all modern facilities. It has:
Big decorated dining hall
Chandeliers and decorative lights
Swimming pool with mosaic tiles and floor
One can go for a trip to nearby Veravadar national park and jeep safari.
VIJAY VILAS PALACE, PALITANA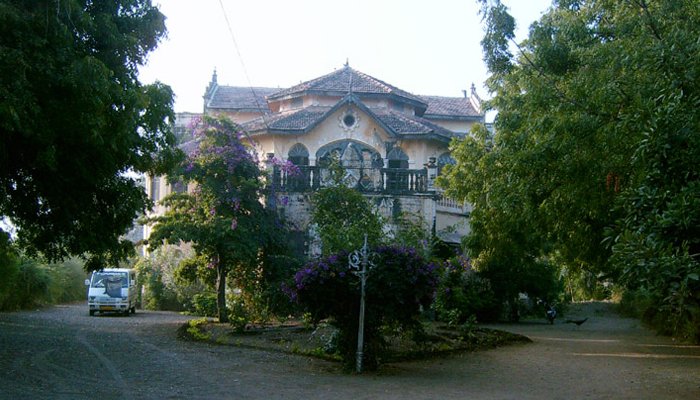 203 kms. from Ahmedabad and 55 kms from Bhavnagar is Vijay Vilas Palace on the way to Palitana Jain temples. Built in 1906 by Raja Vijaysinghji Gohil, Jains and non-Jains both visit this palace since it is nearby Palitana Jain temples.
Both Jain and non-Jain style food is available in its huge dining hall. The palace has 6 spacious rooms with antiques in European style. The nearby places to visit are national park at Veravadar and ship breaking yard at Alang near Bhavnagar.
HOUSE OF MANGALDAS GIRDHARDAS, AHMEDABAD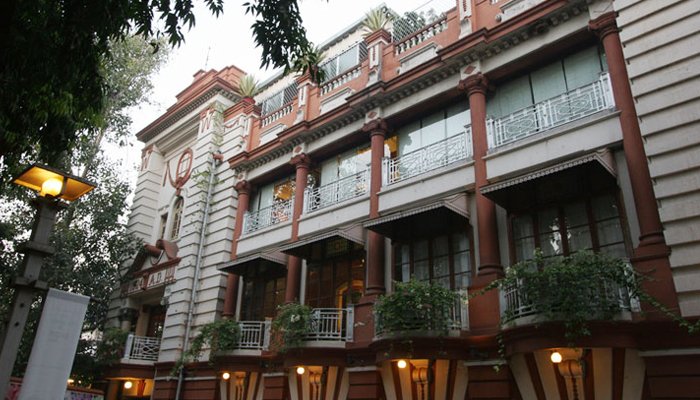 This heritage hotel, centrally located at the Lal Darwaja of Ahmedabad is a huge mansion originally residence of Sheth Mangaldas Parekh who had major contribution in making Ahmedabad the Manchester of India.
There are artistically decorated and furnished 10 rooms with all modern facilities. There are old-styled furniture, swings, tables, chairs, spiraling staircase, crystal balls, etc. It has dining facility at the terrace by the name "Agashiye" and restaurant on the ground floor by the name "Green-House". The western dishes are also served at the lounge. It has a conference and a banquet hall, spacious reading club and a movie club.
UTELIA PALACE, LOTHAL
At about 80 kms from Ahmedabad on Ahmedabad-Bhavnagar Highway is a small village named Utelia. Utelia palace, located here represents Mogul time architecture, balconies and entrance doors. The palace has main big room at the entrance with marble steps. Then there are 14 double bedrooms with 5 star facilities of attached bath, hot and cold water shower, modern toilet and traditional style beds with artistic stone-studded glass works. Each room has the balcony from where one can have view of Bhogavo River, cranes, egrat, kingfisher, etc.
Only about 5 kms. away, at Lothal, there are historical remnants of ancient Indus-valley civilization. The bird loving visitors can visit nearby Nal Sarovar and enjoy bird viewing. One can also have royal dining experience in the palace.
BHAVANI VILLA, DANTA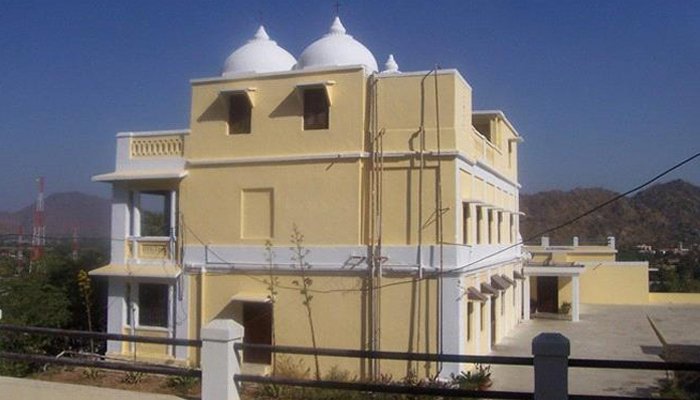 About 170 kms. from Ahmedabad and 40 kms. from Palanpur is Bhavani Villa at village Danta at the border Gujarat-Rajasthan. Since it is at the top of a small hill, one can have very pleasing view of the surroundings from its rooms. It has 4 very spacious suites. The interior of this heritage hotel is very attractive and of antique style. Its facilities include:
Horse riding
Horse safari
Jeep safari
Bird watching
Trekking
Dining hall which serves both Gujarati and Rajasthani meals.
The nearby places to visit from this villa spread over 108 acres are:
Taranga Jain temples
Ambaji temple
Jessore Bear sanctuary
Historical Vadnagar
GARDEN PALACE, BALASINOR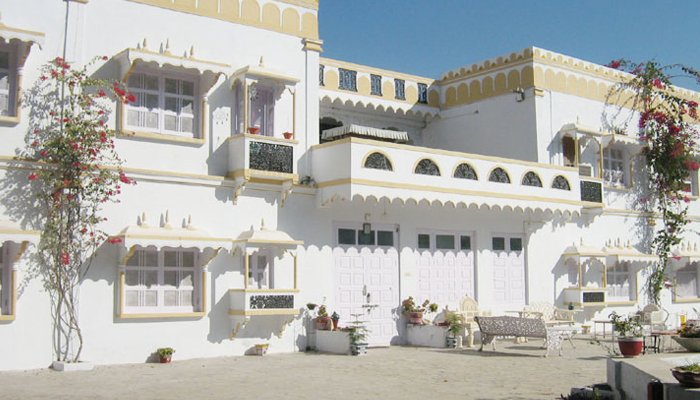 This heritage hotel, about 86 kms. from Ahmedabad is in the middle of vast flower gardens and farms. It has antiue artistic furnitures, wall-paintings, carpets, etc.
The are 4 fully A/C suites and 4 non A/C suites. The visitors are served royal food dishes made of fruits and vegetables of their own gardens and farms as well as milk of their own dairy.
The special attraction to visit this place is the dinosaur park where dinosaurs fossils and eggs are kept.
DARBARGADH, POSHINA
This Darbargadh at the Aravalli hills is known for its artistic pillars and balconies. This 17th century palace has huge entrance hall and 15 royal rooms. The hotel management arranges many activities for the visitors like: camel and camel-cart safari to the nearby local Bhil and Garasiya communities for their artworks folk dances, handicrafts, etc. The nearby places of visits are:
Brahma temple of khedbrahma
Ambaji temple
Brahma Vav
Jain temples of Kumbharia
OLD BELL GUEST HOUSE, SAYLA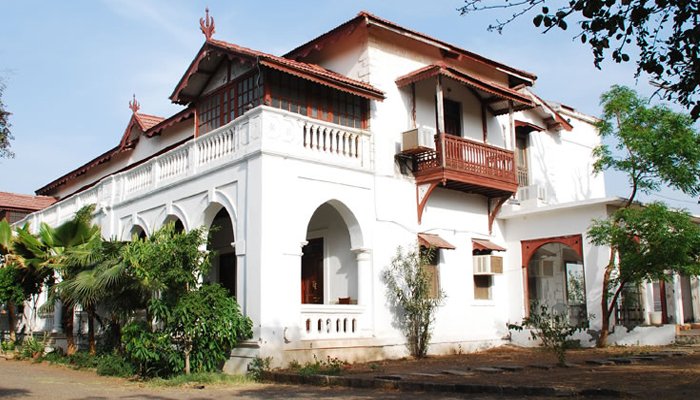 On Ahmedabad-Rajkot Highway at about 150 kms. from Ahmedabad is this palatious guest house near Limbdi. This heritage hotel spreads over 23 acres surrounded by natural beauty of gardens, lawns and fountains. There is a big chess like flooring at the centre of the hotel.
It has 10 A/C rooms with all modern facilities and dining room serving Gujarati, North-Indian, South-Indian, Continental and Chinese cuisines.
The nearby places to visit are:
Hanuman temple of Sarangpur
Chamunda Devi temple of Chotila
Nal Sarovar
Lothal
RIVERSIDE PALACE, GONDAL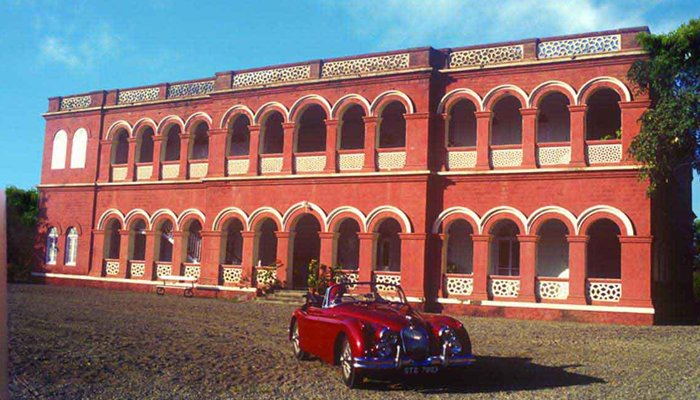 About 40 kms. from Rajkot is Gondal city where Nav Lakha palace (built for Rs. 9 Lakhs in 17th century by the then maharaja Sangramsingh). This palace has green tower clock. There is also a huge balance scale. This balance scale was used for donating gold and silver equal to his weight to the poor. Morover there is a collection of 32 vintage cars and other classic cars horse carriers railway saloon etc. In 19th century, here Riverside palace heritage hotel was started. There are 11 rooms in all. Each room has antiue furniture brass beds, royal wall pictures, dining hall, etc. Mahatma Gandhi before starting his Dandi March had visited this palace for having blessings of royal family.